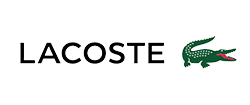 At the meeting of sport and fashion, the elegance of Lacoste liberates us, creates movement in our lives and inspires our self-expression, our self-expression.
The Crocodile has the unique power to connect cultures and transcend generations.
It brings together a broad community, where values and differences are recognised and respected.

Esdemarca · Copyright © Fusion Lab, S.L. 2022 | Legal warning | B66138827 · Manzanares, 4, 28005 Madrid (Spain) · consultas@esdemarca.com · +34 91 769 72 17