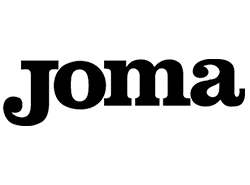 For Joma, the image of an athlete has always been his best representative, that's why he dresses 8 international Olympic Committees; national teams and teams of different sports, such as rugby, handball, volleyball and basketball; to more than 300 professional teams, some of them in the main soccer leagues; to the champions of the Spanish and Brazilian futsal leagues and thousands of professional athletes who trust the brand year after year.
Natural lines and designs for technical products are what make the brand stand out above others. Sportswear, footwear and accessories designed for all types of sports: Running, Outdoor, Soccer, Tennis, Basket and a long etcetera.
Joma, many years running together close to both amateur and professional athlete.

Esdemarca · Copyright © Fusion Lab, S.L. 2022 | Legal warning | B66138827 · Manzanares, 4, 28005 Madrid (Spain) · consultas@esdemarca.com · +34 91 769 72 17